Thursday October 19, 2006 at six-a´clock a remarkable event took place at the National Library of Sweden in Stockholm, when I was invited to present Swedish Artists''' Books. In connection with my speech I arranged an exhibition with Swedish artists´books.

The lecture and the exhibition were arranged by BIBLIS a supporting association to National Library of Sweden.

(Thursday October 26, Leif Elggren presented his press Firework Edition and November 2, Rickard Årlin talked about Stigbergets Stamp and Press.)

My contact with the National Library of Sweden has been rather sporadic during the years working with artists´books, both as an artist and publisher and with other colleagues´artists´books - and my archive The Swedish Archive of Artists´Books [SAAB] since 1978. That year I parallelly established Wedgepress & Cheese and the archive for artists´books. The only contact I have had with the library is by sending them copies of the new editions, which you are obliged to do according to Swedish law.

There have been and still are some disturbing problems. Swedish libraries do not have a specific signature for artists´books. Sadly to say you find the same situation in international libraries. In the Swedish net catalogue LIBRIS you find artists´books catalogued as poetry and under fiction. Another problem is that not all printed editions are catalogued, as cataloging is related to how many pages a work contains. Large books with many pages are always catalogued and can be found in LIBRIS, but thin pamflets and even one-leaf printed matters - they do excist as artists´books - are not catalogued. They are placed as unclassified materia, and, are therefore almost impossible to find.

Though the knowledge about artists´books is not very significant in Sweden or internationally, there are great collections. One of the largest you can find in Germany, Neuen Museum Weserburg in Bremen. They have over 100.000 artists´books and related material. Museum of Modern Art in New York also have a large collection, which was expanded when MoMA bought the artists´books archive from Franklin Furnace in 1994.

As I have donated the titles, some origined by American artists published by Wedgepress & Cheese to Franklin Furnace, they have become part of MoMAs important collection. The editions from my press are also included in The Getty Center for the Arts and Humanities, Artists´ Books collection, US, as they bought Jean Brown Archive´s important collection, where my own other artists´works were represented.

The mentioned archives and libraries have yet a broader perspective according to their collections. They have works published before what is known as the classical period of artists´books 1960-1980. After these two decades artists´books as an artform has been brought newer and broader categories.

I published my first artist´s book "En smekning" [A Touch] in Gothenburg in 1965. Today my own bibliography includes 124 titles.
My latest book-object is "Tala är silver men tiga är guld", ["Speech is silver, silence is golden"] 2001, a bibel pierced by a golden wedge [see the Artikel-opening-picture] - now in the collection of artists´books of Ystad Konstmuseum, Sweden. That museum is the only Swedish museum, which seriously have specialized to create a collection of artists´books.

The Swedish Archive of Artists´Books contains today about 800 Swedish artists´books published since 1940. The latest published by Wedgepress & Cheese in November 2006 is by Bengt Adlers, and the title is "JAGUMAJ" and is Adlers 9th edition by the press. The first one was"The Poetry of Mickey Spillane", 1979, published on New Years Eve and therefore the absolute first collection of poetry in 1980.

One can say that the National Library has shown a marginal interest in artists´books over the years. It is the magazine BIBLIS, the supporting association, which took the initiative, which resulted in my presentation at the National Library November 2006. In their magazine Biblis No. 32, Winter 2005/06, my article"Svenska artists´books, Konst i bokform" with colour illustrations of Swedish artists´books was published.

In connection with the lecture and the exhibition I published following presentation, here abridged, what ahat artists´books are and how they look.



ARTISTS´ BOOKS - THE PAGE AS ALTERNATIVE SPACE

The international concept of artists´ books - The Page as Alternative Space is related to conceptual art and Fluxus in US and Europe in 1960 s. That means not that there are no examples in Sweden. No, this particular artform has been developed in Sweden as early as it was internationally, and even earlier, even if some ideas are different.

The earliest printed Swedish example is C O Hultén´s "Drömmar ur bladens händer", a collection of frottage published as an alternative to an exhibition in 1947.

But there are even other early examples, which also anticipate or are contemporary with international publishing. Like Rune Jansson´s "Anteckningar" 1955, Hans Nordenström´s "En gräns har två sidor" 1956, all published in 1950s. In the 1960s you can find more works like Lars Rolf´s"Bok utan ord" 1962, Carl Fredrik Reuterswärd, "På samma gång" 1961, Erik Dietman, "Sparadrap…", 1961 Åke Hodell, "igevär", 1963 Leif Eriksson, "En smekning" 1965, Bengt Rooke,"Maru" 1966, Nils Olof Bonnier, "Struktur" 1968 och "Björnligan", 1968, just to mention a few.

During the same period of time the concrete and visual poetry was developed in Sweden by Öyvind Fahlström, Jarl Hammarberg, Åke Hodell, Mats G. Bengtsson, Bengt Emil Johnson. Some of their works are close to artists´books, and you can find them in the exhibition as good examples of artists´books, but I consider them firstly related to litterature and poetry.

When Pontus Hultén was the director of Moderna Museet in Stockholm (1959-1973) he and the museum published many catalogues, which must be considered as artists´books. Even the more prominent galleries in Stockholm like Samlaren, Burén and William Aronowitsch published during that time catalogues which are artists´books and related to artists´books and "The Page as Alternative Space".



HOW CAN YOU SEE THAT IT IS AN ARTISTS´BOOKS?

Artists´ books and common books can be hard to separate if you do not know the differencies. If you compare them and take a close look, you will find important conceptual differencies. Common books are containers of texts - prose or poetry or even with images, photographs or a mixture of these things. And they are made by authors and poets.

Artists´books are on the other hand created by artists. And an artist´s book can be anything and look like anything. It is an alternative space, a claimed area and a possibility only limited by the artist´s ability to create. An artist´s book does not document the work of an artist, but is a work of art by him. So it is not a mongraph or a biography about the artist and his work, it is a unique work of art by the artist.

Artists working with artists´books are of course using the original and formal qualities of the book, but one can not confuse this with the older concept book art which is about book designing typhografically and binding. That is a completely different art form. In my opinion, the so called livres de luxe in limited editions, exclusive books with singed and numbered etchings and lithographs by Picasso, Chagall or Matisse, are are artists´books.

One sign that it is an artist´books is that you can see how the artist has used and manipulated the original concept of the book.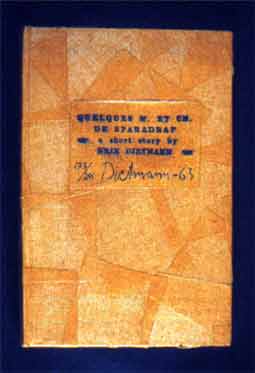 For example shrinking the book, like Erik Dietman has done with his "band-aid" book from 1963, where he is shuting out the viewer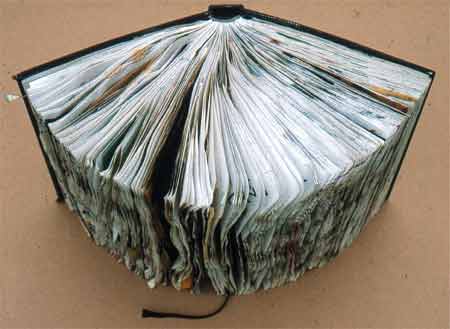 or like Lars Vilks expand the book, which he has done with "Dagbok" [Diary] 1980, with so much informtaionn that you can not read it nor close it.

So - even if artists´books loook simple, they are pretentious works of art; and sometimes they are so anonymously designed and boring that you hardly notice them. But still they are higly real as ingenious works of art.






Copyright @ 2007 Leif Eriksson and Rooke Time
This article may be quoted if the source is mentioned