---
Published for The Neotrope Enterprise. Publisher: Bengt Rooke. Januari 1999. No. 10.
---
SPEGELN I MALMÖ


Biografen Camera vid Stortorget i Malmö har renoverats för mellan sju och åtta miljoner kronor och bytt namn till Spegeln.
Tre salonger har skapats, med sammanlagt 315 stolar. Kommunen, fastighetsägaren Vasakronan och Spegelfilm har stått bakom satsningen och det nya filmhuset ska visa kvalitetsfilm dagligen och bli en tummelplats för Malmös olika filmföreningar.
Bakom den nya biografen Spegeln som galainvigdes den 17 december 1998 står Triangelfilm.

TRIANGELFILM

Triangelfilm startades för ca tio år sedan av Folkets Bios importör Mattias Nohrborg och Björn Ringdahl. Företaget har en egen bio i Stockholm och ett distributionsbolag som skickar ut film via kulturföreningen Kedjan. På Spegeln blir det plats för både den egna importen av kvalitetsfilm, för Buff, Smuff, cinematek, och för konferenser och för matinèer med alternativ till Disney.

NY KONSTUTSTÄLLNINGSLOKAL

Bakändan av den gamla salongen har delats av till ett ovalt rum som tillsammans med övriga väggar i entrén har gjorts till en ny centralt belägen utställningslokal med stor publik genomströmning.

I samband med invigningen av Spegeln var det vernisage på en utställning bestånde av 29 målningar av LEIF ERIKSSON:"ACTION PAINTING (JAG ÅNGRAR ALLT)". Utställningen, som pågår tills vidare, är ett samarbete mellan Triangelfilm och Galerie Leger i Malmö. "Med Leif Erikssons utställning och kommande utställningar vill vi visa att konst och film har mycket gemensamt och det vill vi visa direkt på vår nya biograf."

Katalogen till Leif Erikssons utställning har skrivits av konstkritikern John Peter Nilsson och föreligger dels i en svensk version, dels i en engelsk som översatts av Finn Printz-Påhlson vilken följer här:




AN OFFER ABOUT ART

by
John Peter Nilsson




My first contact with Leif Eriksson was in the end of the 70s. He published artists´ books by his press Wedgepress & Cheese and a supplement from him was enclosed in an issue of the art magazine Kalejdoskop. I don't remember what was written in the supplement, but I eventually ordered some books from his press - and to this these artists´ books and what they actually dealt with still confuse me.

Already in 1965 Eriksson published his first artist's book - The Touch.
Some four years earlier he had painted his first paintings. So, he has a long artistic career, but he has not been particulary conspicious at exhibitions or in texts dealing with Swedish contemporary art. I don't think it is because Leif Eriksson is considered to be a poor artist. If anything it depends on that it has been difficult to readily place his art into any single category. And, I also suspect that it is because he has been working in the field of conceptual art, something that for various reasons has found it difficult to get a foothold in Sweden.

Yet Eriksson presumably became most renowned for his "Äkta Max Walters?" from 1977, a graphical print with different critical commentaries silk-screened on a reproduction of a lithography by Max Walter Svanberg, signed and numbered as a work by Eriksson. This piece resulted in a controversial lawsuit to see wether Eriksson's serigraphy violated the copyright of Svanberg. The Supreme Court of Sweden finally acquitted Eriksson in 1979. However, this victory had the opposite effect on Eriksson. He decided not to continue with what he had been given the legal right to do - i.e. to do meta art.

Between 1974 and 1978 Eriksson had completed a series of works that all had in common that they dealt with art itself. In 1974 he did a painting of Ola Billgren´s signature. The same year he even produced rubber stamps with other internationally well-known artists´ signatures: Picasso, Dali, Miró, Chagall, Hundertwasser and even himself. The visitors could stamp signatures on a pre-printed sheets of paper similar to share certificates. However, they were cheep - one Swedish krona each.

Obviously, one can understand these works criticised art for being objects of speculation. But at the same time the seeds of a post-modern discussion were sown, which took off internationally during the end of the 70s and had associations with Marcel Duchamp, including questions concerning an artwork's authenticity and uniqueness. Here I'm specifically thinking of the American artists Sherrie Levine, George Condo and Mike Bidlo who all during the end of the 70s and the beginning of the 80s in one way or an other "copied" other artists´ works - but "signed" them as their own. Or the artists who consistently started to deconstruct art historical references in their work during the 80s. Leif Eriksson was a forerunner of this development.

I suspect that Marcel Duchamp played an important role even for Leif Eriksson. For example when Duchamp in 1919 drew a moustache and goatee beard on a reproduction of Leonardo da Vinci´s Mona Lisa and wrote underneath "L.H.O.O.Q." ["elle a chaud au cul (con)"; she is hot in the ass]. Or when he in the same year "produced a cheque for $ 115 which was payable to his dentist. Duchamp explained:"…I like this kind of pun, you can use it in many ways. When you read them one straight from French or other languages, the most fantastic things will happen. It was the same thing with Tzanck´s cheque. I asked how much I owed him and "wrote" a hand-written cheque. It was difficult to do the small lettering, to make it look as if it was printed - and it wasn't a small cheque. I bought it back twenty years later for a considerably larger sum than the actual amount it was made out to"
( Pierre Cabanne, Dialogues with Marcel Duchamp. trans. Ron Padgett. New York: Da Capo Press, 1987)

Duchamp wanted to play down art's grand expectations. At the same time he created art that was rich in association, serious and humours, and that reflected on life's (and art's) diversity and imaginative richness, He realised that art's "worth" is comprised of many components and that they work together in intricate ways - especially the relationship between art and the market. But Duchamp was no cynic, perhaps he doubted art but, despite everything, he continued to work as an artist…

If you take a look at Leif Eriksson´s development as an artist, it is precisely such questions about the interpretation of art that is the common denominator. When doing sculptures, objects, graphics, artists´books, mail art or so-called "unexpected pieces" or when arranging exhibitions of the works of other artists, his activities deal with examining art's own limitations - possibilities. Or as he himself says "one must destroy art in order to create it a new".

But coming back to his painting… As mentioned above he started his career as a painter, as a spontaneous painter. One cannot hide from the fact that these early paintings bear considerable resemblance to those of Jackson Pollock - paint that has been splashed and dripped onto canvas. But he wasn't old, only twenty-two. From then on we saw a development towards a more figurative painting, still with expressive undertones but where people were the focus of attention. A traditional painting that was fit and proper.

In 1968 he stopped painting, he claims, to take it up again thirty years later in 1998. But did he really not paint anything during these thirty years? Already in 1974 de did a series of paintings - acrylics on canvas. Undoubtedly something one might call painting!? And I myself remember his "Pole Room" in Johnny Ewald´s Action Studio in Malmö 1984; certainly not painted on canvas but monochrome coloured surfaces onto the walls!? Is this yet another one of Eriksson´s deceptions?

The fact that he says he hasn't painted for thirty years, despite that he evidently has, indicates a necessity to define what painting is, at least for Leif Eriksson. It is obvious that he doesn't regard his paintings during the 70s as paintings. He himself refers to them as copied paintings, or as he also put it:"They are kind tautologies resembling created collisions between what one knows and what one sees".

What we see are segments of well-known paintings by Picasso, Miro, Chagall, and Dali carefully recreated by Eriksson and with the artists´ signatures large inscribed. They can therefore be placed in the same category as his graphics from the same period. And they jest with "the heroes of art" (in 1976 he even did a painting in acrylics that depicted a crying Superman with the Phantom´s skull on his cheek and with the ironic title:"People expect too much of a Superman". Yes, they coincide with his sculptures and objects from the 70s in which he paraphrases and comments on works by Richard Hamilton, Christo and Joseph Beuys among others. The reason he doesn't want to regard his paintings from this period as paintings is probably because some of them only "just happen" to be painted on canvas. The technique used in the works is really of no consequence, but it is the ideas in the works that is paramount.

As I already have mentioned it is the interpretation of art that Leif Eriksson examines in one way or another. And he has an anti-authoritarian doctrine in his approach. He wants to force us to see art and life in new ways where there are no limitations, not even the notion of art's own history or its practitioners. It is as though he is asking the question if we really can see art, if it lurks behind various cults of genius, or maybe it is dependent on the conditions of the market and cultural industry? However, he gives us no answers. Instead he peels off art's disguises - shamelessly and without morals. His art is transparent, immaterial, despite the fact that it is often real things that he is creating.

The fact that he now says he has resumed painting I must confess one should take with a pinch of salt. Certainly, if one looks at the new paintings there is a spontaneous outburst. But I wonder at the same time if they aren't paintings that still represent - paintings!? That they still represent the paintings that he painted over thirty years ago!? That he is paraphrasing himself!? With his art in mind this could very well be the case.

I don´t know if its true. And I don't want to know. If anything I want to learn to think about them - to think about art.

© John Peter Nilsson 1998

This text was first published in the catalouge published in connection with Leif Eriksson´s exhibition "Action Painting (Jag ångrar allt.) at Galerie Leger and the cinema Spegeln in Malmö November 1998 - January 1999.

Translated from Swedish by Finn Printz-Påhlson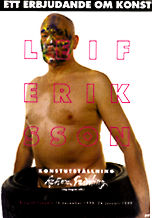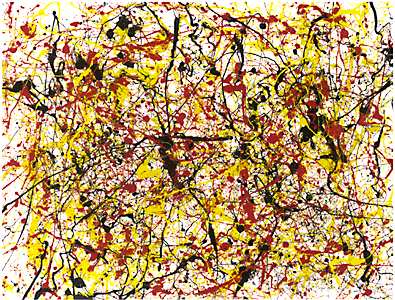 Josef B. 165x210 CM. Lack på duk/Lacquer on canvas.